Transportation from Logan Airport to Holiday Inn Brookline or Other Hotels
MBTA Rapid Transit
The T option, for those traveling light, is to take the Massport (Logan Airport/Boston) shuttle to the Blue Line, inbound; then transfer to the Green Line (C - Cleveland Circle) line outbound (Westbound) to the St. Paul Street stop - the hotel is adjacent.
Shared Van
See http://www.massport.com/logan/getti_typeo_share.html for information on private shuttle companies offering van service to and from Boston Logan.
Taxi
Available at airport terminals 24 hours a day; serving all of New England. See http://www.massport.com/logan/getti_typeo_taxis.html for more information. Taxi charge (one way) from Logan Airport to Holiday Inn Boston-Brookline is approximately $40.00. Taxi charges to reach other hotels will vary depending on distance.
Transportation from Holiday Inn Brookline to Audubon Society's Habitat Education Center and Sanctuary.
We are working on arranging transportation from the Holiday Inn Brookline to the wedding venue (and back) for our out-of-town guests. If you are staying at another hotel, we will do our best to provide transportation to and from the wedding venue as well. If you would like transportation from either the Holiday Inn Brookline or another hotel to and from the wedding venue, please call Kris or Jan at 617-942-1567 or email us at us@october3rd.us by September 18th to let us know.
Directions - Public Transit
Belmont Line (Commuter Rail). Train leaves North Station Boston at 11:20 on Saturday 3 October, arrives Belmont at 11:35. Taxi or walk to Habitat, which is approximately 0.9 miles (22 minutes walk). Return train leaves Belmont at 3:02 p.m., arrives North Station Boston at 3:18 p.m.
Directions - Driving
If you're driving to the event, we've provided directions via a map from various points in the region to Belmont, and then to the venue from Route 2 in Belmont.
To locate Belmont

General Directions to Belmont
Take I-95 to Route 2 (East, towards Cambridge/Boston), or Storrow Drive Boston west to Soldier's Field Road and then follow signs for Route 2 West to Exit 58. Printable general/Belmont Map.
To Belmont - From the Holiday Inn Brookline, step by step
(Also, you can use the Printable Directions).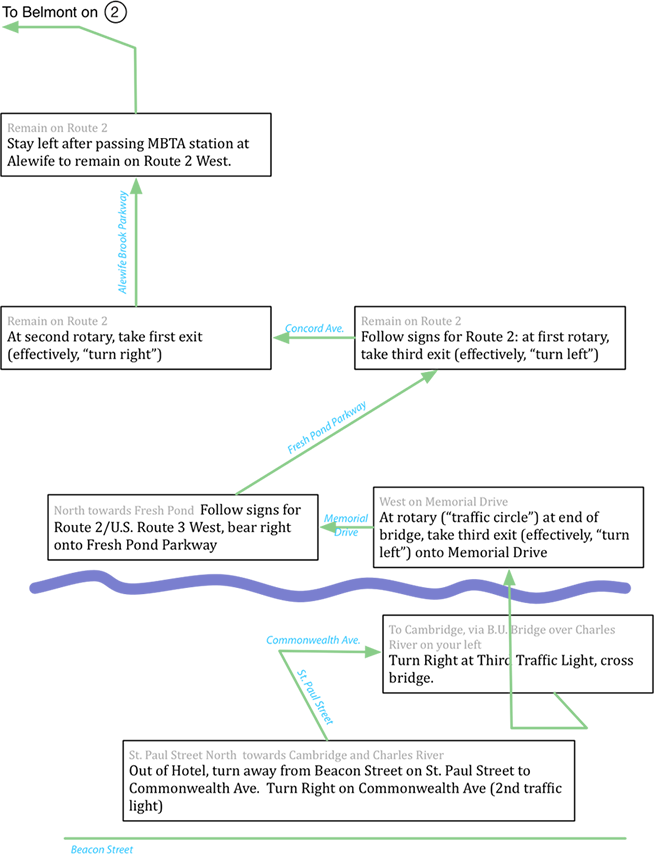 ---
To the Audubon Society's Habitat (Belmont).
Once you've gotten to Belmont on Route 2, Exit 58 will point you in the right direction...